"…all common things become uncommon and enchanted to me. All lamps are wonderful; all rings are talismans. Common flowerpots are full of treasure." Charles Dickens, Christmas Tree, 1850.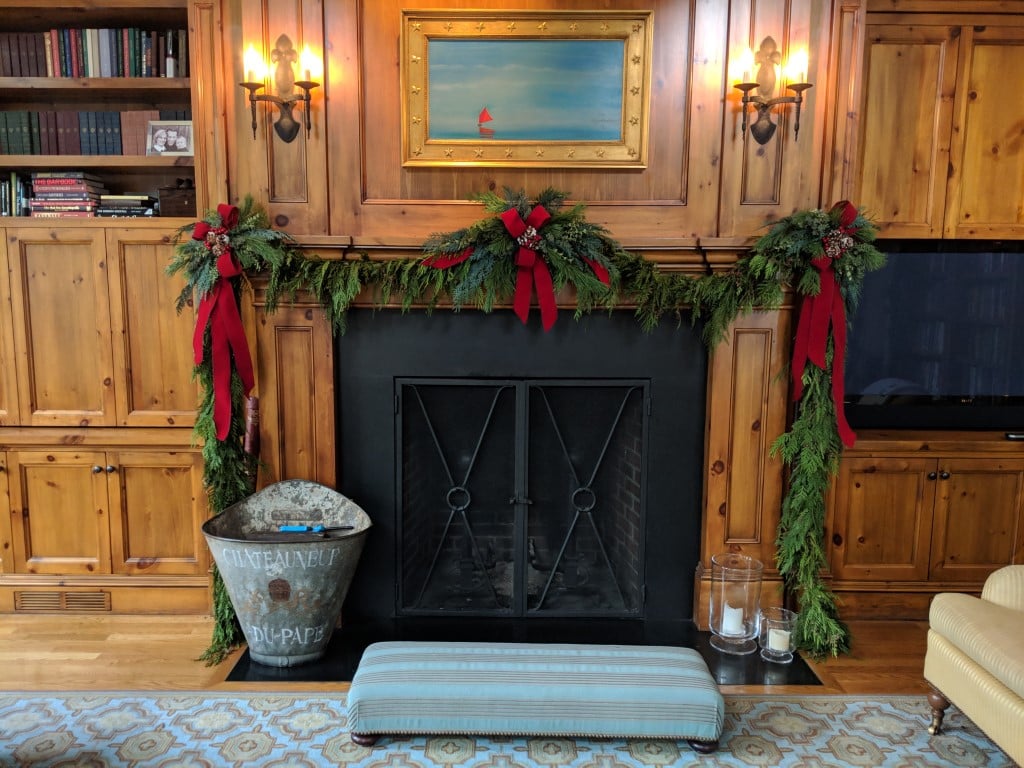 Holiday decorating can seem overwhelming. The abundance of choices in styles, products and themes can be intimidating. When you add to that the general feeling of "not enough time to get it all done," your Christmas Present Spirit will be fighting for head space with the existential Christmas Sense-of-Ineptitude Spirit.
There are ways to manage this process by breaking it down into components like mantel, staircase and tree. Once it's been broken down you can begin to formulate ideas on themes, styles and materials.
The main rule of thought is to keep a theme by color or style. Here are some suggestions.

CLASSIC
Use of red and/or green decorations with the quintessential overhead wreath, Christmas stockings and candles.
COUNTRY
Again, you will want to use traditional colors along with plaids or buffalo checks. Add vintage (pull-toy), handmade (children's art, quilt pieced stockings) and wooden pieces, like wooden bead garland.
NANTUCKET CHRISTMAS
Muted greens, blues, whites and natural aged wood work well for this mood. Vintage wooden signs or tools, nautical pieces, and hurricane lamps with pillar candles pair beautifully with things found along the beach. Stockings knit like a fisherman's sweater would take this look over the top!
MODERN
Think white and gold with some metallic highlights. A recent development is a holiday greeting or wish spelled out in metallic lettering across the front of the mantel or upright behind your garland. The garland can be as simple as a faux magnolia garland in champagne tones.
THE MANTEL
A great place to start your decorating is your Christmas holiday mantel. It's a relatively small space that affords a lot of flexibility.
GARLAND
Use live or faux garland OR gather greens from your yard or nearby woods. For safety purposes, if the fireplace will have a burning flame, only faux garland should be used.
Live greens will give off that wonderful wintry pine scent. Faux garland has no scent, but is easier to manipulate. Measure the height and width of your mantel. Keeping those measurements in mind, buy a longer garland if you want it to hang to the floor and a shorter garland if you just want to lay it across the top.
LIGHTS
If you want to light your garland, do that first using traditional electric or mini battery-operated LED lights. With electric lights, be sure to arrange them so that the male end is at the side where your electrical outlet is. With battery-operated lights be sure to remove your batteries before putting them away for the season or they will corrode in their case. Weave your lights through the greenery or just lay them across the top.
PINE CONES, DRIED FRUIT & CANDLES
Using wire or a glue gun, attach pine cones of various sizes throughout your garland. You can also pile pine cones atop the length of your mantel. Be careful that you avoid getting sap on your mantel. Fill in with potted plants for height and color drama. You can add lovely dried orange slices as well for a nice color contrast. You can place various candles behind this arrangement. Mass candles on the mantel, either tapers or columns. Flameless candles work best with garland nearby. If you are using pillar candles, a great design trick is to wrap the base with a wide ribbon all the way around and secure in the back with a straight pin.
TRADITIONAL
Add traditional ornaments and ribbon to your lit garland. Glue the bodies of the ornaments to their metal heads with a glue gun then wire them to the garland where you want them. Use your favorite wired ribbon to weave through the garland or just place bows at the corners. Feel free to add magnolia leaves, cedar branches, etc.

WOODEN VILLAGE
Arrange a wooden village across your mantle. You can also use flameless votives inside the houses to make them glow from within at night. Add small animals or bottle brush trees to make it feel like a village. There is a rebirth of bottle brush trees in recent years. They are available in many colors, sizes and finishes. Create an entire wintry woods scene using just these trees.
BIRD THEME
This is a natural fit for an evergreen mantel. You can find clip-on birds that are both realistic and decorative for your garland. Real or faux nests and feathers are nice additions.
ARTWORK & BOOKS
Use one or more pieces of framed art, leaning against the back wall. These can be temporary seasonal pieces or permanent. Tip: elevate them on top of something so that their base is raised above the evergreens in front. Stack books with the bindings facing outward. Stagger the heights of the stacks. For a more contemporary look, wrap each book in white paper before stacking them. Intersperse plants, art, bottlebrush trees, candles, etc.
THE FIREPLACE HEARTH
If you do not light your fireplace, you can fill the inside with wrapped gift boxes of different sizes and tie them up with ribbons and bows. Use a monochromatic color scheme or mix and match. If you want a relaxed style, just wrap them in craft paper tied with a gorgeous double-faced satin ribbon bow. You can also use bundles of white birch logs placed inside the hearth. For the illusion of a flame, backlight the logs with strings of warm white lights.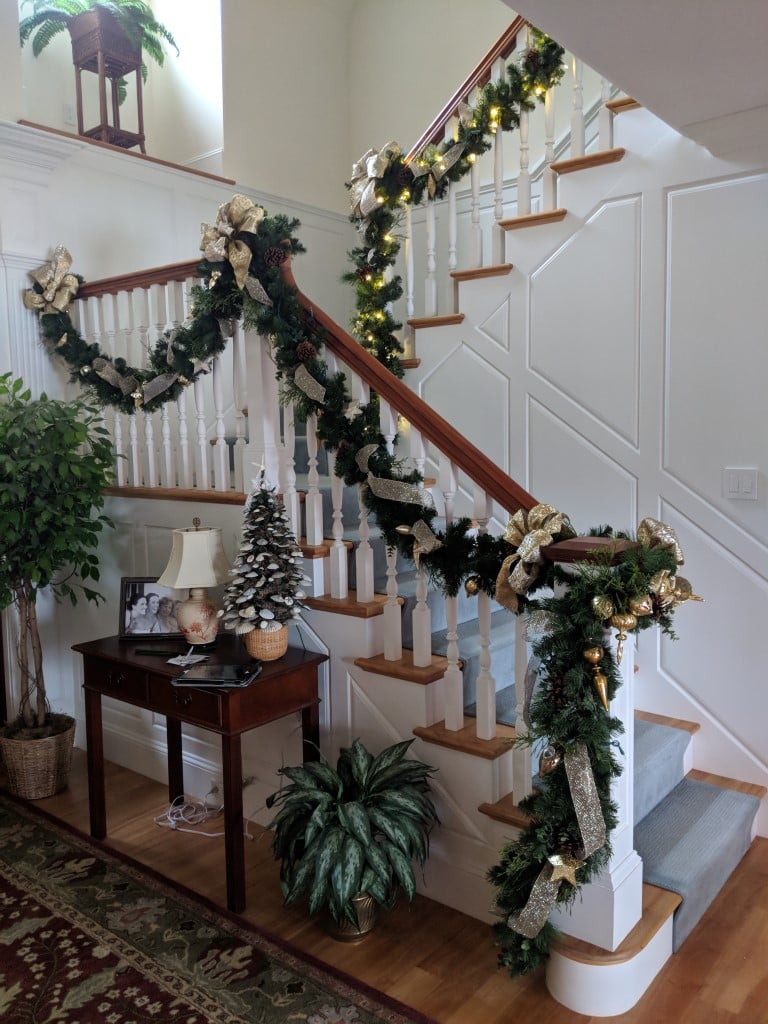 THE STAIRCASE
Now that you have mastered the mantel, you may choose to decorate your staircase. The same design theme used in decorating your mantel can be used decorating your staircase. Remember, the push pin and green pipe cleaners are your best friends in securing the garland. The garland can be hung straight across the railing or draped every third spindle. Try and incorporate the same ribbon used on the mantel or a coordinating ribbon. Bows may be attached at each hanging section or at the end only. It is a matter of your personal preference.

And finally, a helpful list of the BASIC BUILDING MATERIALS you'll need to start your mantel project.
Live or faux garland, usually at least 12' (Faux garland usually comes in 5', 6' and 9' lengths. Live garland is sold by the yard.)
Accents (e.g. magnolia leaves, cedar sprays, pinecones, bird's nest, feathers, twigs, dried flowers, nuts, etc.)
Floral wire or green pipe cleaners
Clear push pins or Command hooks (small ones for connecting wires/pipe cleaners)
Tape measure, Glue gun, and Wire cutters
Remember that all things become enchanted at Christmas so whatever you decide to use and however you decide to arrange it, it will be wondrous!
This article was originally published in Leaflet, and MHS publication, in December 2021.